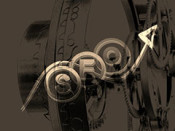 You are looking for an SEO (search engine optimization) company. Do you go big or go home? Does a larger SEO agency mean better SEO results? Does the term work smarter not harder apply? Can a smaller company be just as successful as a larger one? Inquiring minds want to know!
I found an interesting post: An Expert's Guide To How To Get SEO Right. Prati Dholakiya wrote the article and he works for a very large company, E2M. The post had some interesting points, so I copied the link and  posted it on my Twitter feed. My friends at Ninja Outpost retweeted it. I respond to everyone who retweets me, so I mentioned to them that I didn't think that you had to be the largest agency to provide your client with great SEO. They asked me to elaborate, and this blog post was born.
So how could a small agency provide great SEO, just as good or better than a larger firm? It's possible because SEO is not simply the investment of the amount of time spent on the account, but knowledge. For instance, what if Amit Singhal, Andy Beal and Matt Cutts (I said what if) started a company? Just the three of them. We'd have a really small agency run by really amazing people! Call it "The ABC's of SEO."
Matt is well known for the advice he has given about SEO, and prior to his sabbatical from Google last year he was prolific with his posts about SEO and providing insights. I know I wasn't the only one who waited anxiously for his next post to glean what Google's latest algorithmic change would be.
What can I say about Amit? Until February of this year, he was the head of Google's core ranking team. If anyone understands search it is Amit. His 15 years at Google have not only given him a unique perspective on search and how it works, but also on a variety of topics such as speech retrieval, question answering, and automatic text summarization as well as document ranking, document routing/filtering, and IR. And did I mention the man has a Ph.D. in Computer Science from Cornell?
Now Andy, okay, he already has his own company, but we are building our dream company so we need to round it out with reputation management, and Andy has that covered in spades. You might be asking yourself why does his name sound so familiar? Well, you've seen him on ABC News, CNBC and NPR. He's everywhere as the expert on internet marketing and SEM.
So, is it the size of the company or the quality of their work? Neil Patel, who is kind of a big deal in SEO, says there are nine components for an effective SEO team. Nine. I'm going to summarize Neil's blog here in case you don't click on the link. You have to have someone to manage your SEO; you need someone to create great content; you need a great designer (he does specify a great designer so you might want to forget the neighbor kid unless they are really, really good!). Plus you need PR and link building; you need technical experts (see above), developers, an account manager (I guess the SEO manager is out getting coffee – a lot), email and social media marketers, and conversion rate optimizers.
I am not discounting that someone needs to be in charge. If you are going to do SEO for your company, you want someone to take ownership. Unless you have a really big company, you won't need multiple managers. Small businesses will find that one person will wear multiple hats.
In reading the post I found that there was a lot of overlap in the nine key areas. For instance, a good web site developer will handle a lot of what is needed automatically. It's just good practice. A good content writer will also work with their clients to determine what their keywords are and keep those in mind when writing content.
So you have to decide. You have a firm that is larger so they might have more bandwidth, and they'll tell you they have "more" credentials just because they are larger. Or you have a firm that is smaller, and they might work smarter. They might just focus on those things they think are most important for your company.
Is the focus on the few rather than the many? A good manager doesn't need a backup manager. PR, email and social – I'm glad they were included, but as someone with a marketing background, I can assure you I don't want these run by my SEO company. I want them run by a marketing, advertising, and PR guru. The SEO company can give input, but not the other way around. That would be like asking the SEO company to tile my bathroom, an area where they have no expertise.
You can pick a large company, but then they want to do things beyond SEO. They want to control everything you do. Or you can pick a small company with expertise in SEO that will focus on your SEO.
With a large firm, you don't get more credentials than the ABC's of the world, or more ability to show results. If I have to pick large or small, I'll pick my dream firm, "The ABC's of SEO" of Amit, Beal, and Cutts. (Okay, it was a stretch.) The ABC's may be small, but I bet they know their SEO, and I'll do just fine.