When breaking news happens where do you find it? Twitter? Facebook? Instagram? Social Media has changed the face of the newsroom and the way all businesses well, do business. Traditional news media often learn about events from Twitter. Businesses make major announcements on Social Media, Twitter announced their IPO on Twitter!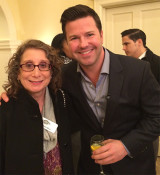 I had the opportunity to listen to Ron Corning of WFAA (the local Dallas, Texas ABC affiliate) speak about this very topic. Now news anchors often hear that the news they deliver is old – I saw that on Facebook yesterday! The one thing our daily broadcaster can bring is the sense of community and bringing it all together in one place. Mr. Corning not only brings local and national stories, but through his outreach helps provide free colonoscopies to the uninsured.
Social media can provide you with the joy of being the first to know the story, often before your local news station has even learned about the story. When US Airways Flight 1549 crashed into the Hudson the first reports were not from a traditional reporter, they were found on Twitter. And the "iconic" photo – it was taken with an iPhone by a bystander and posted on Twitter.
When Osama bin Laden was captured the entire event was live tweeted – quite by accident – by Sohaib Athar (@ReallyVirtual) and later picked up by the media. It was a watershed moment. A secret attack closely followed on Twitter.
The Boston Marathon bombing, while obviously there were reporters on scene, the story unfolded on Twitter, Instagram, and Reddit. Right down to the announcement that the Boston Police had captured the bombing suspect, you guessed it, on Twitter.
And now Twitter is flooded with details from the Sochi Games about hotel rooms not quite ready for prime time…. It appears that the one thing that is working is social media!
Now how does this relate to your business you ask? The first thing many people do in the morning is check their social media accounts. How can you as a business ignore the place your customers go to first thing in the morning and the last thing at they do before they go to sleep? Marketers have always said you need to be where your clients are, and your clients are on Facebook, Twitter, LinkedIn, Google+, Instagram, Pinterest, etc.
Okay, so you can't be on every social media platform, I get it. You need to "pick your battles". You just can't ignore social media. When you started your business you got business cards, then you "finally" got a web site. Now you have to do social media.  Who can forget how Oreo capitalized on social media when the lights went out at the Superdome last year during the "big game". Yet another watershed moment.
You need to be where the breaking news is happening. Or better yet, you need to be the breaking news!